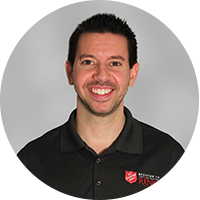 Brian Smith
Brian loves bringing people together. When he was just a little boy, his grandparents taught him the joys of cooking a meal. His love for food eventually took him to Italy, where he learned the art of pasta making from a nonna. Now, he uses his passion to bring friends and family together around the dinner table every day.
As a fund-raiser and friend-raiser, collaborating to find solutions inspires him.
He began his career at the Indiana University Alumni Association before working in Development for The Salvation Army Indiana Division. After three Christmas seasons, he joined Summit Marketing where he now gets to support The Salvation Army and other nonprofit clients all over the country.
Whether directing donor recruitment and engagement initiatives or overseeing product development, he enjoys walking alongside clients to help them achieve their goals.
As the lead of the Register to Ring™ crew, he channels the philosophies of Coach K (of the Duke men's basketball team) by leading with heart and accomplishing objectives together as a team.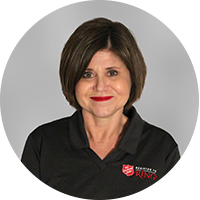 Cindy Smith
Many lovingly refer to Cindy as "The Godmother" of Register to Ring. Why? She's worked at Summit for almost 25 years and has been a part of the Register to Ring team since its inception in 2003! She offers training and support, writes documentation, tests the platform, onboards clients…basically, Cindy does it all.
She grew up in Prairie Village, KS and received a B.S. in Computer Science from Kansas State University – go Wildcats! At the time, there were no personal computers. Email didn't even exist yet and students wrote programs using punch cards. While a lot has changed over the years, Cindy uses her computer science background to continuously find ways to improve the Register to Ring platform.
Her personal motto? In the immortal words of Meryl Streep, "Start by starting." Those are words to live by and the Register to Ring team values Cindy's drive to get even the most challenging projects off the ground.
Cindy's clients inspire her every day to make Register to Ring the best it can be.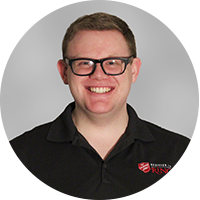 Mitch Duperree
Mitch is perhaps too proud of the fact he can recite all seven verses of The Founder's Song.
Although he wouldn't describe himself as "Army-Barmy," Mitch comes from a family of Salvationists and spent most of his adult life working for The Salvation Army in various capacities. He's coordinated Red Kettle campaigns large and small and couldn't be more thrilled to provide training and support on the Register to Ring team.
Having graduated from Wright State University with a B.A. in Creative Writing, he enjoys using his zest for telling stories to create a more just and compassionate world. For Mitch, words are "our most inexhaustible source of magic" and he relishes the opportunity to move volunteers to action through effective prose.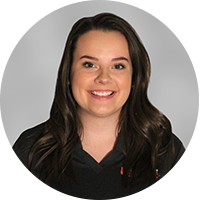 Bailee Kufner
Bailee grew up playing tennis. Her father, coaching her as an athlete, ended up giving her the best piece of advice she's ever received: The best way to grow is to surround yourself with people who have a greater knowledge and more experience than you do. She's carried that lesson off the court and with her throughout her life.
After receiving her bachelor's in business at the University of Central Missouri, she quickly joined Summit Marketing and began learning and gaining experience from many departments. As a valued member of the Register to Ring team, Bailee conducts trainings and provides support to the field.
Her favorite part of the job is being able to connect with amazing people while supporting the incredible mission of The Salvation Army. She considers herself a dog person (especially cute Beagles named Buddy).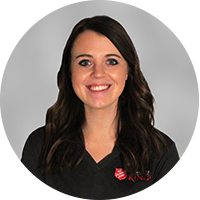 Makyna Scott
Makyna lives by the mantra "there are two things in your life that you are in control of: your attitude and your effort." Maybe that's why she brings such a positive mindset to every project she works on. Tasks that might seem daunting to others are met with tenacity and a keen eye for detail when Makyna's involved.
Before coming to Summit, Makyna attended the University of Missouri and received a Bachelor's in Marketing. Whether through training or support, she strives to build unique relationships with each client to truly understand their needs and loves helping recruit volunteers to support the great mission of The Salvation Army.
An early riser, you can normally catch Makyna walking into the office 10 minutes before everyone else with a cup of Starbucks coffee in hand and a Taylor Swift song playing in her headphones. She also enjoys getting crafty with her Cricut and playing with her pups – Whitley and Willow.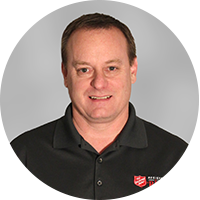 Lance Meerkatz
Lance is the Senior Data & Programming Manager and oversees all technical aspects of Register to Ring. He's worked with Summit for over 32 years and he knows a thing or two because he's seen a thing or two.
Having spent 22 years in the Army Reserves in operations and with a computer science and project management education – Lance brings a tremendous amount of technical expertise and organizational insight to the Register to Ring team
Lance wants to help people overcome their "fear of pressing enter" and general nervousness when it comes to embracing technology. He enjoys providing solutions that make things easier and sees Register to Ring as a tool that does this for The Salvation Army and its bell ringers.
In his free time, Lance enjoys reading, fishing and spending time with his family.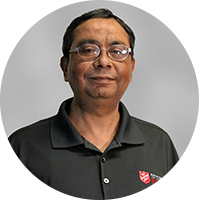 Vasu Venkat
Vasu is Register to Ring's resident programming genius. Before coming to Summit, he received his master's in mechanical & computer science and worked for Indian Space Research & Development.
As passionate as he is about ones and zeros, he's even more driven to help those in need by supporting The Salvation Army's fundraising efforts. When planning enhancements for the future of the platform, Vasu remembers the words of Gandhi: "Live as if you were to die tomorrow. Learn as if you were to live forever."
If he isn't coding, he's probably watching movies and if you're ever in need of a snack, look no further than Vasu's desk for the tastiest treats in the office.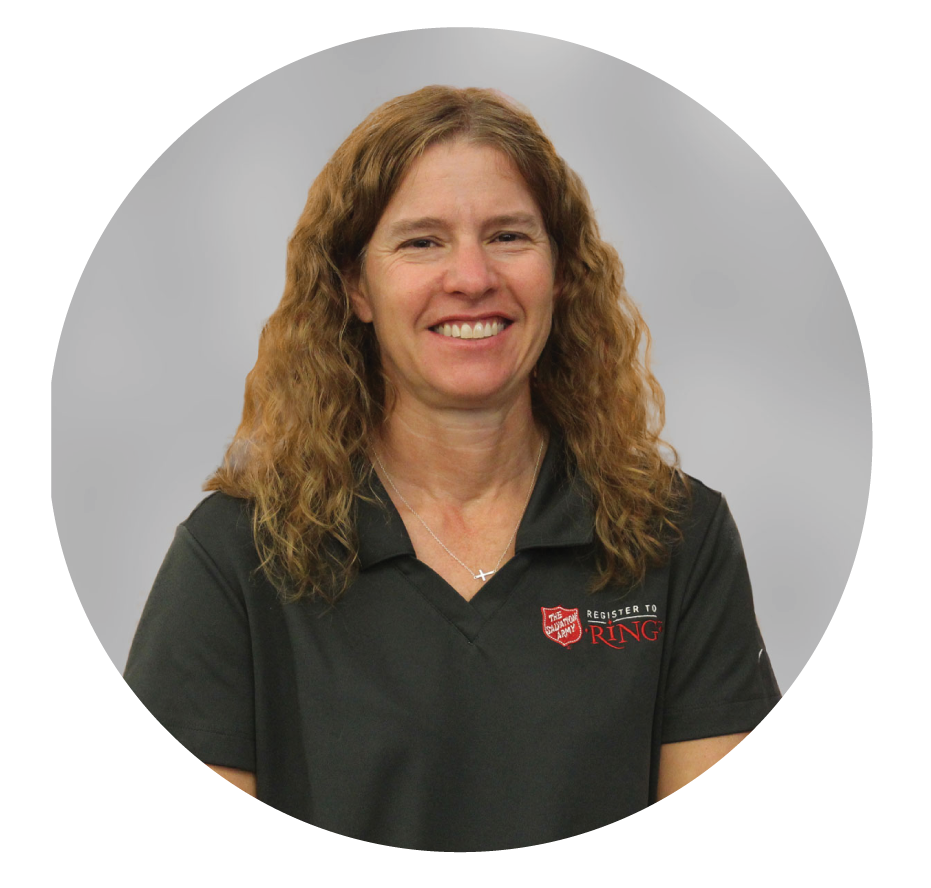 Kristin Adams
After growing up in Kansas City and marrying her high school sweetheart, Kristin went on to receive a bachelor's in finance from Texas Christian University and her MBA from Charleston Southern University. So, yes, Kristin is a fiscal and accounting guru. Her organizational skills help us keep our many ducks in a row. A champion of efficiency, Kristin always has great ideas for improving how we run things behind the scenes.
Once she's cleared the stack of project agreements and invoices from her desk for the week, Kristin enjoys reading her Bible, volunteering at church, watching her son play baseball and watching her daughter play golf.